.
I chat with Jodi on the phone every week (as do a few other people too), and I can tell you now, as greatly appreciative as Jodi is for all the mail & support she continues to receive, she's also very disappointed at the current low level of money in her appeals fund.
Right now, the fund has round $15,000 in it. It needs to have $150,000 in at the very least, and probably a whole lot more by the time the dust settles… so $15,000 right now (while better than zero) is just not cutting it.
To a degree, responsibility for that also lies with the person currently overseeing the official fund website… as their willingness to integrate themselves into the non-FB based support community has been somewhat non-existent to date. Hopefully that will change moving forwards.
The thing is… way too many people have gotten themselves involved in an almighty ego-fueled pissing match over the past few months. There's no other way to describe it. Yes, they're Jodi supporters ("in a fashion") — even though most of them turned up several months after the initial trial had finished — and since then, they've blown way too much time & energy trying to out-do & out-manoeuvre other supporters, subsequently rendering themselves as useful as a politician in a crisis. I'm not naming any names here, but we know who they are.
You see, prior to doing anything, I always ask myself this question: "WILL IT HELP JODI?". If it will, then it gets done. If it won't, then it's pointless wasting time on it.
If many more people adopted a similar approach, then we'd certainly make more cumulative progress in the direction of our common goal. Think about that for a second. We are all here for Jodi after all. Anyone else's personal baggage, gripes, vendettas and/or their accompanying bullshit is irrelevant and should be treated as such.
Let me spell it out for you:
If you've already donated to the fund, that's awesome. Please donate again.
If you haven't already donated to the fund, why the hell not? What happened? I'm not even sure you could class yourself as a true Jodi Supporter if you haven't donated. You'd be more like a bystander… watching everything happen but not doing anything pro-active to help the cause. And that's not good.
Click here (or click the pic below) to visit the official JAA Appellate Fund website to make your donation today.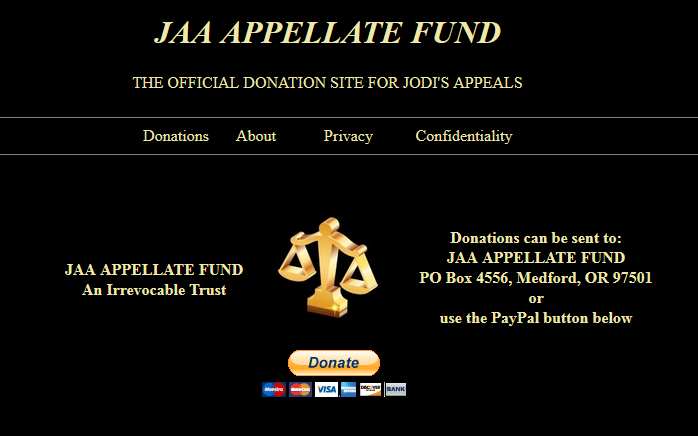 Finally, if my post today has offended anyone, then that's great. That was the plan. It's a wake up call if you must. It's also a call to action. So if anyone has been offended today, then so be it. Maybe they should take a look in the mirror the next time they're passing one. Maybe they should be thankful they actually have a mirror to look at. Maybe they should also be thankful that they're not locked away 23 hours every day too.
Remember this video from back in January 2013? Here it is again:
[hdplay id=25 width=500 height=300]
Here's the bottom line folks:
Jodi deserves to be free. Our combined & cumulative efforts can go a hell of a long way towards speeding up the process and achieving that objective as a direct result of the forthcoming appeals.
Above all else, and as I've been saying since I launched this site back in December 2012… WE ARE TEAM JODI… AND WE WILL BE VICTORIOUS in our quest for JUSTICE FOR JODI.
That statement will never change… but it's now time to stand up & be counted.
Team Jodi (and Jodi herself) thanks you in advance for your support and your donations.
Have a great weekend!
SJ
Team Jodi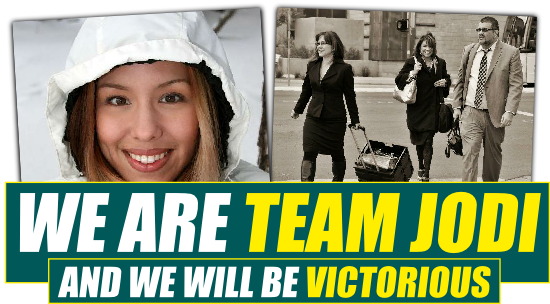 .