.
Having watched some live coverage of the Zimmerman trial over the past week, it came across as a prime example of a how a trial should be run. No theatrics… no shouting… no badgering witnesses… no throwing stuff… no tantrums… no hidden agendas… no racial bias… no corrupt prosecutor… no state perjury — and of course a properly sequestered jury.
I also observed that you don't just send an unsequestered jury home for the day or weekend, and ask them not to talk to anyone… as judge Pickles did. That's BS. You give them specific instructions on what they cannot do, and you make sure they both understand them and stick to them.
This is from the end of the GZ trial day yesterday – and with a sequestered jury. Notice any big differences from the AZ State circus?
[hdplay id=243 width=500 height=300]
On the eve of the 2nd anniversary of Casey Anthony's Not Guilty verdict, I still firmly believe that if Jodi's very basic self-defense case had been held in Florida — where a potential female victim successfully defended herself against a savage attack from an aggressive serial abuser & pedophile — then she would ultimately have been acquitted.
Click the following link if you missed my 6/22 post — Ten Kinds of Unfairness in the Jodi Arias Trial.
I'll leave you with this tweet a few hours ago from Jodi: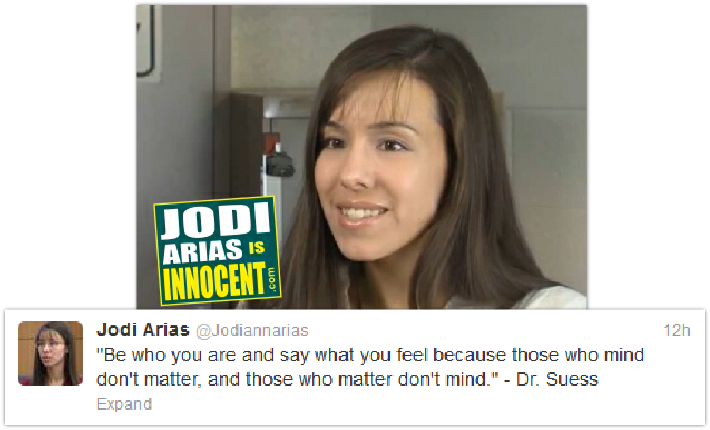 Happy Independence Day! Enjoy today's holiday with your loved ones, and stay safe.
Remember…
WE ARE TEAM JODI – AND WE WILL BE VICTORIOUS in our quest for JUSTICE FOR JODI.
Leave your thoughts & comments below…
SJ
Team Jodi
If you would like to help Jodi by way of a financial donation via check or PayPal, click the Team Jodi link below for further details. All donations go directly to the Arias family…