.
On this special day, I've invited Jeff to write a post  for Jodi's 33rd birthday.
. . . . . . . . . . . . . . . . . . . . . . . . . . . . . . . . . . . . . . . . . . . . .
Happy Birthday, Jodi! On this day, 33 years ago you were born in Salinas, California.  The number 33 is quite significant throughout history.  For example: a normal human spine has 33 vertebrae when the bones that form the coccyx are individually counted.  According to the Newton scale, 33 is the temperature at which water boils.  Jesus Christ's age when he was crucified was 33 in 33 A.D., according to many Christian traditions, although it has not been historically verified.  In an odd coincidence, Jesus is also reported to have performed 33 miracles.  Islamic prayer beads are generally arranged in sets of 33, corresponding to the widespread use of this number in dhikr rituals. These beads may number 33 in total or three distinct sets of 33 for a total of ninety-nine, corresponding to the names of God.  And, 33 is not only a numerical representation of "the Star of David," but also the numerical equivalent of AMEN: 1+13+5+14=33.  There is also another odd coincidence involving the number 33 which involves the death of Alexander the Great (Alexander of Macedonia).  He is alleged to have died at the age of 33.  However, this number is not just synonymous with death.  In Dan Brown's 2009 novel The Lost Symbol the number 33 was discovered to lead to the essential meaning of life in The Bible.
Today, and for the past 5 years, Jodi, you have been fighting for your life as well as for freedom and justice.  And we, your supporters, have been fighting alongside you every step of the way.  Ours has been a most difficult journey as we have endured a cacophony of criticism, attacks, ridicule, discrimination and violent threats against our well-being.  When faced with such stiff opposition, I am reminded of a quote by Jaren L. Davis that says, "Make the decision, make it with confidence, and the world will be yours."  The efforts that have been made by the haters have disappointed us a great deal, but they have not discouraged us nor have they shaken our resolve.  We remain steadfast and loyal to you, Jodi, and we walk with you in the direction of freedom and justice, decisive and confident.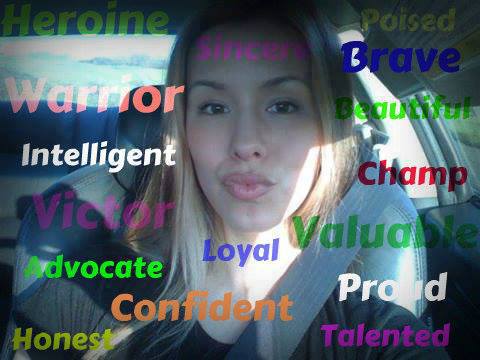 On a personal note, Jodi, I believe that you and I are kindred spirits because we both are artists.  I am a writer, a poet and a musician and you are a writer, a painter and a photographer.  You have a passion of photography and I have seen many of your pictures.  They are as beautiful and lovely as you are as a person.  I believe that music and songs are snapshots of a person's life that is captured for posterity as an audio recording.  I think this is why many musicians often look back at their earlier songs and muse with embarrassment as if looking at an old photograph and asking "Is that really me?" The song or the picture might not be relevant to who or what person is today, but that moment is forever captured in a song or a photograph.  I also believe that each and every artist puts a part of themselves in each and every work whether it be a painting, sculpture, poem, song or novel.  I have looked at all of your paintings and I feel like they represent a microcosm of your soul.  Vincent Van Gogh once said, "I dream my painting and I paint my dream."
My dream is for you to be free and to receive justice, to be able to live outside of a prison cell and sleep in your own bed again, to partake in the simple, basic everyday activities that most of us do yet seem to take for granted until we have those freedoms and liberties taken away from us.  My dream is for you to one day be able to see just how many people around the world love you and are praying for you and your family.  My dream is for you to be happy and feel the unconditional love of so many people touch your cheeks like a bright sun on a summer's day.  My dream is for you to someday meet a man who will love you the right way, treat you like a queen and spent the next 40-50 years making you laugh, smile and cry tears of joy as you two grow old together.  Last but not least, my dream is for you to do whatever it is you have dreamed about and make that dream become a reality.
Make a wish, Jodi.  Happy Birthday to you!
. . . . . . . . . . . . . . . . . . . . . . . . . . . . . . . . . . . . . . . . . . . . .
Thanks to Jeff for today's post.
Feel free to leave your message for Jodi below too.
In the meantime, we plough on relentlessly in our quest for JUSTICE for JODI.
Make it an awesome day!
SJ
Team Jodi
If you would like to help Jodi by way of a financial donation via check or PayPal, click the Team Jodi link below for further details. All donations go directly to the Arias family…