.
Check out the re-post below from June 16th.
. . . . . . . . . . . . . . . . . . . . . . . . . . . . . . . . . . . . . . . . . . . . . .
Following from my last post, here's the next installment of Gus Searcy's recent interview with Pitchforks.
In this recording, Gus discusses "The Secret", CASH, the Cancun trip, the suicide of Dan Freeman's brother (the day of Jodi's arrest), the suicide a few days later of one of Jodi's friends, the supposed suicide of Ashley Reed, the Dustin Thompson "tip", thoughts on the "Ninja theory", John Hepworth & the bathroom shoe print, plus a bunch of other stuff too.
It's well worth listening to.
*CLICK HERE TO LAUNCH THE MP3 PLAYER FOR THIS AUDIO IN A NEW WINDOW*
With specific regard to the bathroom shoe print, I firmly believe law enforcement know who it belongs to, but the information has been purposefully suppressed.
Remember…
WE ARE TEAM JODI – AND WE WILL BE VICTORIOUS in our quest for JUSTICE FOR JODI!
Make no mistake.
Believe it.
Prepare for it.
Be part of it.
Leave your thoughts & comments below.
SJ
Team Jodi
If you would like to help Jodi by way of a financial donation to the official JAA APPELLATE FUND, click the Team Jodi link below for further details. All donations go directly to the fund for assisting with the legal fees associated with appealing Jodi's wrongful conviction. Thank you for your support!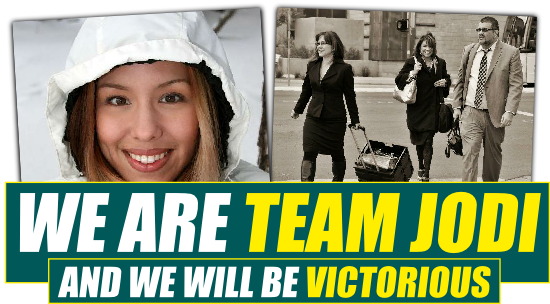 ..