.
This is an important update on the ongoing fraudulent activities of convicted felon & fake Jodi supporter, Jason Weber – (see mugshot below):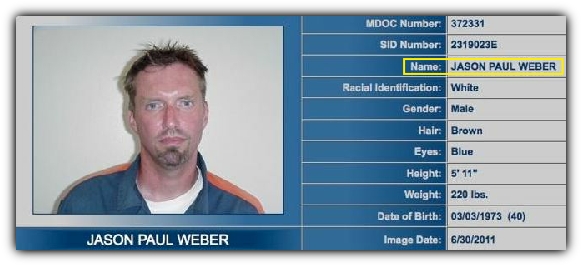 Following on from my last post, Weber is continuing to use deceptive practices to steal money destined for Jodi's Appellate Fund.
Here's tweet from Jodi's Twitter update account from yesterday (8/15):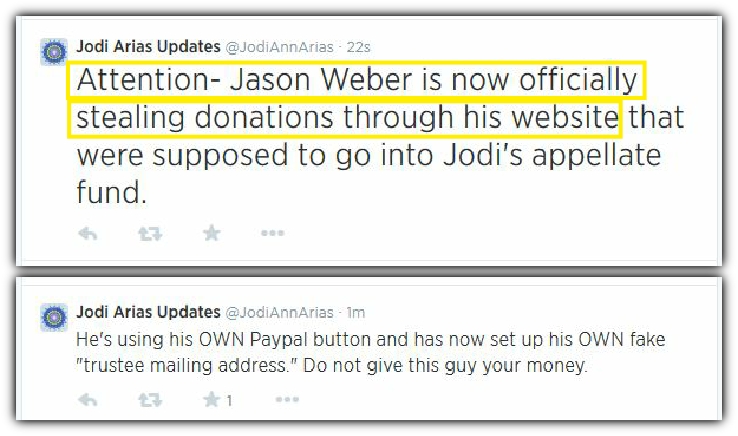 As you know, Weber received written notice from the Trustee (Sue Halterman) on August 6th (10 days ago now), where he was told, in no uncertain terms, to cease & desist from soliciting or collecting any further funds for the official trust account:

In response to that request, he has now set up a fraudulent PayPal account for his fake support website, which he is currently using to collect funds using the PayPal address: support@Justice4JodiArias.com – as per the screenshot below: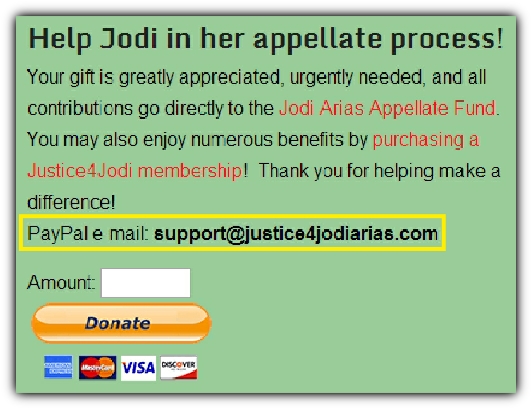 Not content with steering PayPal donations into his own pocket, he's now covered all the angles and even gone as far as setting up a fake "Trustee mailing address" (in Warrenton, VA), so he can now pocket any donations sent in via regular mail too. See screenshot below:

It's a clear cut case of misrepresentation, deception, theft & fraud on Weber's part. At this rate, he's gonna end up back in jail a second time… probably sharing a jail cell with his cohorts, Pascal Van Daele & Elizabeth Ann Schilling.

In Summary:
Any funds donated through the fake & fraudulent site operated by Jason Weber will go directly into his pocket. The only website authorized to collect donations for the JAA Appellate Fund is the official website at Justice4Jodi.com
So once again, be sure to let all your contacts & fellow Jodi supporters know about this important information, and warn them accordingly.
You might also want to visit his fake Facebook support page at: www.facebook.com/justice4jodiarias – and leave your own thoughts & comments.
UPDATE: IF YOU HAVE DONATED ANY MONEY VIA PAYPAL FROM AUGUST 6TH thru AUGUST 15TH – PLEASE SEND YOUR DONATION DETAILS TO: jaa.appellatefund@gmail.com — This will enable us to prosecute the individuals responsible.
 . . . . . . . . . . . . . . . . . . . . . . . . . . . . . . . . . . . . . . . . . . . .
Irrespective of the efforts of some people — WE ARE TEAM JODI – AND WE WILL BE VICTORIOUS in our quest for JUSTICE FOR JODI!
SJ
Team Jodi
If you would like to help Jodi by way of a financial donation to the official JAA APPELLATE FUND, click the Team Jodi link below for further details. All donations via Justice4Jodi.com go directly to the fund for assisting with the legal fees associated with appealing Jodi's wrongful conviction. Justice4Jodi.com is the ONLY website authorized to collect donations. You can also check out Jodi's new Art Gallery website by clicking this link. Thank you for your ongoing support!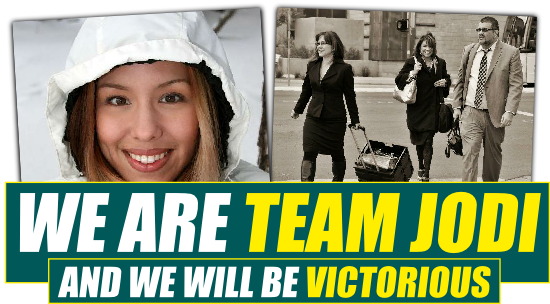 .