Following on from my last post, here's the detailed appeal in light of the recent dismissal of the original Martinez complaint by the Bar Counsel.
If you can find the time to read through all 36 pages, it'll be well worth it – just to see how The Prosecutor not only fed classified trial information to the different women he was having sex with during the trial, but also how he broke every rule in the book. Something the Bar Counsel don't seem to be too concerned about at the moment. That may well change as momentum builds.
As I've said before: If these allegations can be proven by witness testimony – backed up by the credible evidence available – this would positively affect Jodi's appeals, and may well go some way towards overturning Jodi's wrongful conviction.
Click here or click the pic below to read the 36 page PDF (opens PDF doc in a new window):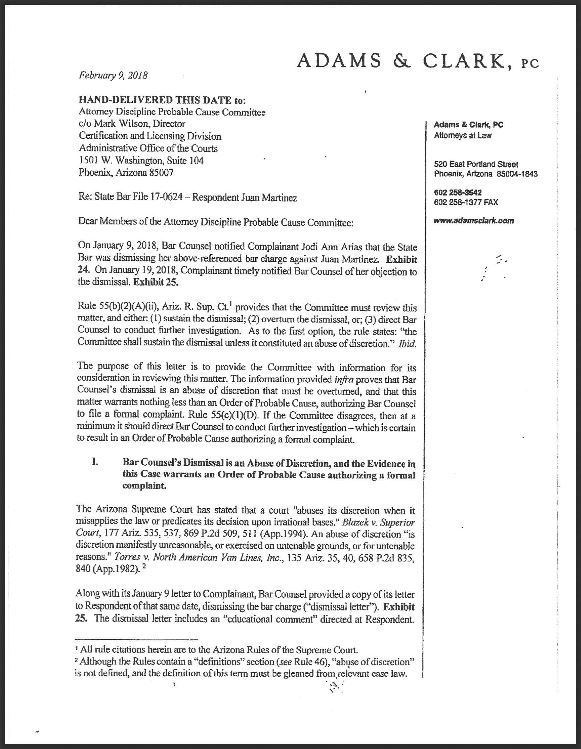 Document Highlights:
In this section of the document (page 12), we see forensic evidence provided to the State Bar relating to Martinez' sexual relations with Jenn Wood and Katie Wick, together with the leaking of confidential & sealed information (to Jenn Wood) in an attempt by Martinez to get hold-out Juror 17 removed from deliberations: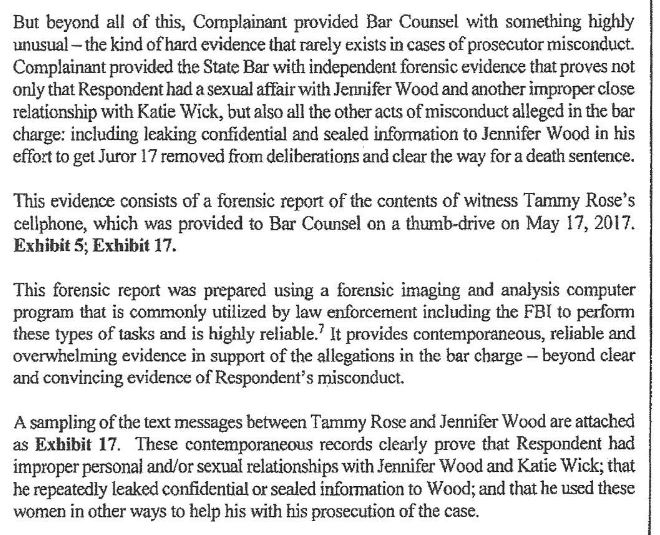 On page 24 we see more revelations from Tammy Rose — this time relating to Juan Martinez fucking Jen Wood on his desk in the MCAO office, March 1st… just 3 days before the Retrial Verdict on March 5, 2015: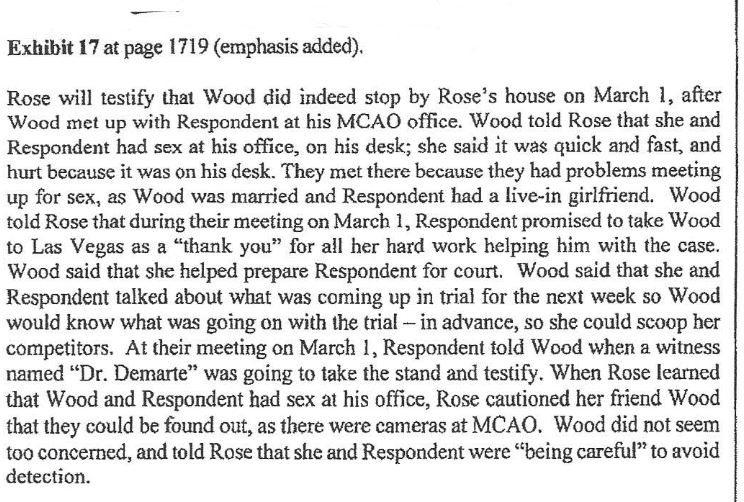 . . . . . . . . . . . . . . . . . . . . . . . .
UPDATE: The JAA Appellate Fund total currently stands at $115,769.81 — so let's be sure to keep the momentum rolling throughout 2018, so the fund total can push on towards the ultimate target of $250,000. That in turn will help towards covering all the legal fees associated with appealing Jodi's wrongful conviction.
All donations via Justice4Jodi.com go directly to the fund. It is also the ONLY website authorized to collect donations.
In addition, please DO NOT, under any circumstances, donate through any other website or Facebook page/group claiming to be "official" and/or acting with Jodi's approval or authorization. The same applies to any "Jodi Membership Clubs", groups or fake Trust funds that have been set up. These sites are bogus – they continue to steal money from Jodi's future – and they should be actively avoided. If you are aware of any such sites, please help Jodi by clicking here and reporting them.
And remember… each day that passes takes us one day closer to Jodi's release date…

 . . . . . . . . . . . . . . . . . . . . . . . . . . . . . . . . . . . . . . . . . . . .
Make no mistake.
Believe it.
Prepare for it.
Be part of it.
SJ
Team Jodi #WINNING <<<

Click the banner below to read Jade's post – "Justice Denied: Why The Jurors Got It Wrong & How The Facts Decimate The State's Case Against Jodi Arias.":