.
After highlighting countless instances of prosecutorial misconduct in AZ over the past 11 years, here's the final part of Michael Keifer's series. Today he takes a detailed look at what can be done to curb future prosecutorial abuses.
You can keep up with all Michael's tweets right here in his Twitter page.
The previous 3 parts in the series can be access by clicking the links below:
Prosecutorial misconduct alleged in half of capital cases (Part 1/4)
Prosecutors under scrutiny are seldom disciplined (Part 2/4)
Objections raised to Juan Martinez's conduct in Jodi Arias trial (Part 3/4)
. . . . . . . . . . . . . . . . . . . . . . . . . . . . . . . . . . . . . . . . . . . . . . . . . .
Can the system curb prosecutorial abuses? (Part 4/4)
by Michael Kiefer:
"For three days, The Arizona Republic has examined prosecutor conduct and misconduct, citing cases in which prosecutors stepped over the line without suffering consequences to themselves or the convictions they win.
The question remains: What can be done about it?
Options already are in place.
When a prosecutor steps over the line, it's up to the defense attorney to call it to the court's attention, and it's up to the judge to decide whether an offense has been committed and whether it affects the defendant's right to a fair trial.
Yet, neither likes to do so.
Prosecutors are arguably the most powerful people in the courtroom: They file the charges and offer the plea agreements. They determine whether to seek the death penalty, and, given mandatory sentencing, predetermine the consequence of a guilty verdict.
Defense attorneys worry that if they cross a prosecutor, future clients could be treated more harshly the next time they face that prosecutor in court. Judges worry about prosecutors who use court rules to bypass those judges who rein them in. Both know that prosecutors are rarely sanctioned by the court or investigated by the State Bar of Arizona for ethical misconduct.
So overly aggressive prosecutors continue to have their way in the courtroom – as long as they win cases, experts say.
"It comes from this 'end-justifies-the-means mentality,''' said Jon Sands, the federal public defender for Arizona. "We'll do anything we can to bring someone to justice.
Part of the problem of reining in prosecutorial misconduct is defining it.
When a defense attorney does something wrong while defending a criminal client, it's called "ineffective assistance of counsel."
When a judge does something wrong, it's called "judicial error."
But when it's the prosecutor who is under scrutiny, it's called "prosecutorial misconduct." It's a fuzzy concept rooted more in constitutional law than in rules of professional conduct: A "term of art," according to the American Bar Association.
"The vast, vast majority of prosecutorial misconduct claims go to inadvertent slip-ups rather than calculated interference with the wheels of justice," said Judge Peter Swann of the Arizona Court of Appeals……."
>>> CLICK HERE TO READ PART 4 IN FULL AT AZCENTRAL.COM <<<
. . . . . . . . . . . . . . . . . . . . . . . . . . . . . . . . . . . . . . . . . . . . . . . . . .
Remember…
WE ARE TEAM JODI – AND WE WILL BE VICTORIOUS in our quest for JUSTICE FOR JODI!
Leave your thoughts & comments below.
SJ
Team Jodi
If you would like to help Jodi by way of a financial donation to the official JAA APPELLATE FUND, click the Team Jodi link below for further details. All donations go directly to the fund for assisting with the legal fees associated with appealing Jodi's wrongful conviction. Thank you for your support!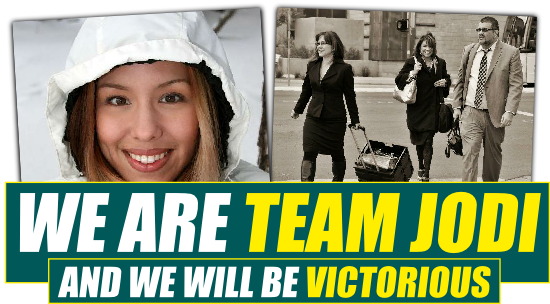 .