Here's the final part of our series, featuring 25 of the top unanswered questions relating to Jodi's trial.
. . . . . . . . . . . . . . . . . . . . . . . .
"The (Still) Unanswered Questions: Part 5 of 5" – by Justus
(Click here for Part 1 of 5)
(Click here for Part 2 of 5)
(Click here for Part 3 of 5)
(Click here for Part 4 of 5)

If I had been Jodi's defense attorney, what follows are the final five (of 25) questions I would have put before the jury during closing arguments to counter the State's bizarre theories. (Or if I had been on the jury, I would have presented these to my fellow jurors.)
Question #21: Why would anyone leaving a crime scene at approximately six in the evening (when a whole neighborhood might be arriving home from work) think it is a great plan, after just killing someone, to be squatting down, reattaching a license plate when, as the State contends, the whole purpose of removing them was to make the car unidentifiable, untraceable and certainly unassociated with her?
Question #22: Why does she make cell phone calls in Arizona heading north from Kingman toward Hoover Dam, thus negating the supposed reason for borrowing the gas cans or turning off her cell phone?
Question #23: Why does she fill the gas cans in Salt Lake City if their purpose was to hide her trip into Arizona? Was she also supposedly hiding her trip from her so-called alibi home to Yreka?
Question #24: How is it Jodi supposedly came up with the most moronic murder plan in modern times but (according to the State), was able to use all her "caginess" to pull the wool over the eyes of three experts with more than 90 years of collective experience in their respective fields? (Are we really allowed to have it both ways when someone's life is at stake?)
Question #25: If Jodi was planning to lie about the whole horrifying event while under oath, why during those 4+ years incarcerated did she not come up with a reasonable scenario about what happened during those final moments rather than telling us she can't remember? Why supposedly fake PTSD when she could easily have just made up something to fit the scene that she supposedly remembers?
. . . . . . . . . . . . . . . . . . . . . . . .
UPDATE: The JAA Appellate Fund total currently stands at $104,174.56 — so let's be sure to keep the momentum rolling throughout 2018, so the fund total can push on towards the ultimate target of $250,000. That in turn will help towards covering all the legal fees associated with appealing Jodi's wrongful conviction.
All donations via Justice4Jodi.com go directly to the fund. It is also the ONLY website authorized to collect donations.
In addition, please DO NOT, under any circumstances, donate through any other website or Facebook page/group claiming to be "official" and/or acting with Jodi's approval or authorization. The same applies to any "Jodi Membership Clubs", groups or fake Trust funds that have been set up. These sites are bogus – they continue to steal money from Jodi's future – and they should be actively avoided. If you are aware of any such sites, please help Jodi by clicking here and reporting them.
And remember… each day that passes takes us one day closer to Jodi's release date…

 . . . . . . . . . . . . . . . . . . . . . . . . . . . . . . . . . . . . . . . . . . . .
Make no mistake.
Believe it.
Prepare for it.
Be part of it.
Leave your thoughts & comments below.
SJ
Team Jodi #WINNING <<<

Click the banner below to read Jade's post – "Justice Denied: Why The Jurors Got It Wrong & How The Facts Decimate The State's Case Against Jodi Arias.":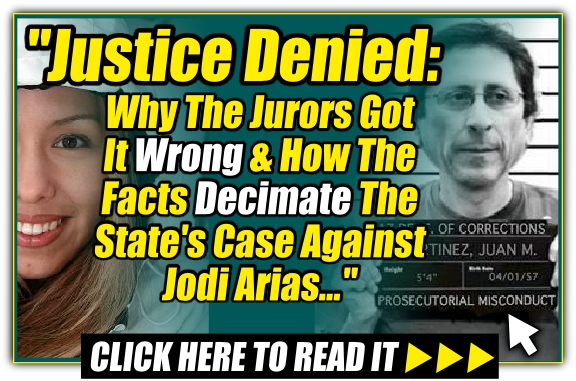 Click the links below to read Jade's previous posts in the series:
Stephens, Sandbagging & The Six Month Crap-Fest
Corruption, State-Sponsored Murder & Twelve Angry Men
The Immaculate Deception: Exposed
Michael Melendez – Perjury Exposed
The Presumption of Innocence
The Great Mormon Porn Swindle