.
Rick Chance: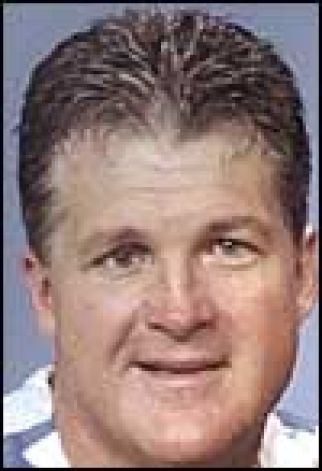 THE CRIME:
The surveillance camera shows Brandi Lynn Hungerford looking relaxed, almost bored, as she and Rick Chance collect two plastic keycards to Room 317 of the Best Western Inn in Tempe.
A hot date that Rick Chance had bragged about for days went horribly wrong.
A maid who ignored a "Do not disturb" sign after checkout time discovered Chance face down on the floor around 1:15 p.m. Friday, Aug. 9, 2002. Detectives found a single shell casing, an orange pill, some white powder and a burned stick of incense in the room. In Chance's pockets were his credit cards, cash, two unwrapped condoms and the keys to his jet-black 2000 Mercedes 500 sedan.
$1 million in gems and Rolex watches believed that Rick was carrying went missing from the crime scene.
A surveillance tape, though, was the big break in the case. Tempe police released it Sunday, Aug. 11. Within 48 hours, more than 100 tipsters had called saying they recognized Hungerford as a dancer at one or more Valley nightspots. And by Wednesday, Aug. 14, investigators had tracked Hungerford and Lemke to Tacoma, where they were arrested two days apart.
RICK CHANCE:
The charisma that contributed so much to Chance's business success clearly made him attractive to women. Some say too attractive for his own good.
Rick Chance was anything but a traditional businessman. He prided himself on bucking the big boys in the auto glass industry by starring in his own TV and radio commercials, offering free meals to fix windshields.
Jewelry already was a big part of Rick Chance's life around the time of his third divorce.
He told friends he was getting bored with the auto glass industry and wanted to start selling jewelry.
Chance went about his new business the way he seemed to go about everything: with reckless abandon.
He sold both high-end jewelry to reputable Valley dealers and low-end trinkets to the masses. He used his connections for the good stuff and the newspapers for the rest.
The "jewelry circuit" in the Valley is a fairly close-knit society. Those familiar with Chance portray him as an amateur, would-be broker who sometimes misrepresented his jewelry pieces to potential buyers.
Rolexes figured prominently in Chance's life and death. Friends say he loved to flash his Rolex Crown Collection watch, and investigators say he was believed to be carrying one or more Rolexes among the jewelry that disappeared the night he died.
Diamonds, too, were a big part of Chance's jewelry business.
Chance's passion was strip clubs. Christie's Cabaret on 32nd Street was a favorite. So was Bourbon Street Circus on Thomas.
BRANDI  LYNN  HUNGERFORD:
Brandi Lynn Hungerford worked at both places.
Sex changed Brandi Lynn Hungerford's life.
Hungerford worked for an "in-call escort service." She was licensed as a personal escort in Maricopa County, using the trade names "Eden" and "Tiara."
Her job was to ride with a bodyguard to a hotel room, slip into some sexy clothing, light a stick of incense and do a provocative dance while a client pleasured himself. The bodyguard stayed outside to make sure there was no trouble.
She said it was kind of gross but it was easy money. She said she could make $1,200 in a week.
Hungerford needed the money. Her father was diagnosed with cancer, and although her mother worked as an officer at Maricopa County's Estrella Jail, Brandi's income was crucial to the family.
The job, though, took its toll. Increasingly, friends described Brandi as stone-faced and sarcastic. She adopted the classic stripper's shield of indifference, counterfeiting intimacy with total strangers in the form of a $10 lap dance.
ROBERT LEMKE:
A passion for guns and a quick temper led Lemke to a series of criminal charges (felony assault, illegal weapons possession, violating probation) prior to meeting Brandi Hungerford:
Lemke's other passion, besides guns, was Asian women. He had an Asian girlfriend named Terra Brandt, who helped him when he couldn't buy an assault weapon he wanted because of his felony record.
Brandt and Lemke moved to Arizona together in 1999, just before Lemke was scheduled to be sentenced on a weapons charge in Tacoma. Once in the Valley, Brandt became a licensed escort and Lemke became a male stripper and escort.
Lemke took his job seriously. He bulked up from 185 pounds to 220 and became a popular sex symbol in clubs and homes across the Valley.
During that time, Lemke also ran an escort service and met Hungerford, who started working for him. Friends say he was smitten with her.
THE ARREST, THE CHARGES, THE SENTENCING:
Hungerford said she and Lemke conspired to rob Chance; that Lemke showed up at the hotel in a ski mask and stole the jewelry. She said he drove 1,500 miles to get to his mother's house in Tacoma, where he knew someone who would buy the stolen goods.
Lemke's attorney advised him not to talk to investigators about the Chance killing, but he was being held on a warrant for the unrelated 1999 weapons charge that was pending in Tacoma when he moved to Arizona. Authorities would say only that Lemke was an "investigative lead" in the Chance case.
Brandi Hungerford, 25, voluntarily talked to police and was quickly charged with first-degree murder, robbery and conspiracy to commit robbery.
It was Lemke, 29, who confessed to the 2002 murder in a Tempe motel room of Empire Auto Glass owner Rick Chance. Lemke will be eligible for parole once he completes nearly 25 years of sentences for other crimes.
In 2005, Lemke was found guilty of theft and conspiracy to commit theft. Jurors, however, were hung regarding the murder charge. Lemke later changed his plea to guilty and admitted shooting Chance in the chest during the robbery in the motel room.
Brandi Hungerford was sentenced to 14 years in prison for her role in the case. Hungerford pleaded guilty to second-degree murder, armed robbery and conspiracy charges. Investigators said Hungerford was not in the room at the time of the shooting.
Jodi Arias is facing the death penalty for killing her ex-boyfriend in SELF DEFENSE. What makes Lemke and Hungerford 'special' and were offered plea deals? Jodi Arias offered to plead guilty to second-degree murder but the State of Arizona said no.
Could we say double standards and if so, WHY?