.
Konstantin Simberg: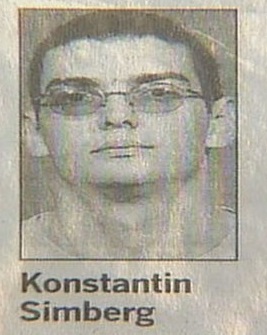 Konstantin Simberg had agreed to take part in a staged burglary of 6,000 vials of human growth hormone, worth of nearly $1 million dollars. His role was to rent a U-Haul truck to transport the drugs. When he decided to become an informant for the police in order to help authorities implicate another man in the theft plot, his fate was sealed.
Simberg was on the phone in late 2001 with a Phoenix detective when he was struck with brass knuckles. In fact, the detective himself heard the yell. Simberg's body was found a couple of days later near Fossil Creek. He had been beaten, stabbed, doused with gasoline and set on fire. One of his captors said he could hear Simberg screaming as he left the scene.
Two of the murder suspects were soon caught and later convicted of murder and kidnapping in Simberg's death, 31-year-old Dennis V. Tsoukanov sentenced to 13 years in prison, and 30-year-old Chris Gabriel Andrews sentenced to life with the possibility of parole after 25 years.
A third suspect, Mikhail Drachev, fled the United States and managed to elude authorities for 5 years till he was finally captured in Canada in 2007. It was Drachev who at the murder scene had given the victim a cigarette and offered him a blindfold, which the victim declined. Drachev and another man then tried to shoot Simberg, but the gun malfunctioned and didn't fire. The men then set Simberg on fire and left him for dead. This was no accident. This was cold-blooded carefully thought-out, premeditated murder.
Mikhail Drachev received a plea deal. He pleaded guilty to second-degree murder, kidnapping and aggravated assault and received the maximum sentence of 22 years for second-degree murder in the slaying of Konstantin Simberg. Drachev was also ordered to serve 15 1/2 years for kidnapping and aggravated assault.
Drachev will serve his sentence and will walk again free one day. Jodi Arias is facing the death penalty for killing her ex boyfriend. The Prosecution in the Arias case argued that the crime was committed in an especially cruel, heinous and depraved manner". We are asking them to re-read how Simberg was murdered: Beaten. Stabbed. Doused with gasoline and set to fire. Yet, Drachev was offered a plea deal. Jodi Arias offered to plead guilty to second-degree murder but the State of Arizona said no.
Could we say double standards and if so, WHY?