From AZCentral.com:
Read the full story @ AZCentral.com
An investigator for the State Bar of Arizona on Wednesday asked a state bar committee to consider disciplinary action against Deputy Maricopa County Attorney Juan Martinez because of allegations that he manipulated women to leak and obtain information during the Jodi Arias murder trial.
Martinez also is alleged to have flirtatiously communicated with a juror who had been removed from the trial to try to glean information about sitting jurors. The juror told investigators during a sworn deposition that she had texted photos of her naked breasts to Martinez after he told her he was "a breast man."
The State Bar's Attorney Discipline Probable Cause Committee could suggest a range of sanctions, from a reprimand, probation or suspension to a disciplinary hearing that could result in disbarment.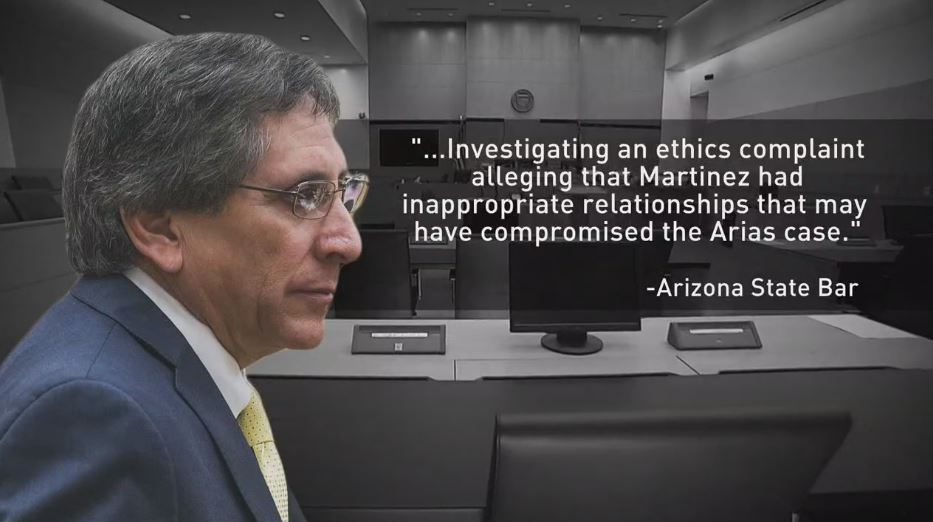 The Arizona Republic has learned that Martinez is likely a subject of a recent internal investigation into possible inappropriate behavior toward female employees of the County Attorney's Office.
The Republic also learned that one of the women alleged in the State Bar complaint to be romantically linked to Martinez is now working in the County Attorney's Office as a law clerk, which is similar to an intern.
The Republic in August requested copies of the county personnel investigation and an explanation of the clerk's duties but has not yet received them.
The County Attorney's Office and Martinez' current attorney, Donald Wilson, declined comment. Martinez did not respond to a  request for comment.
Multiple bar complaints filed:
As of March, Maricopa County had paid $150,000 in attorney's fees to defend Martinez against bar complaints. That particular attorney no longer represents Martinez in newer bar complaints.
One complaint, which covered a decade's worth of cases Martinez tried, including Arias, resulted in an offer of probation for Martinez from the Probable Cause Committee, but Martinez opted instead to face a disciplinary hearing.
Read the full story @ AZCentral.com
. . . . . . . . . . . . . . . . . . . . . . . .
UPDATE: The JAA Appellate Fund total currently stands at $104,174.56 — so let's be sure to keep the momentum rolling throughout 2018, so the fund total can push on towards the ultimate target of $250,000. That in turn will help towards covering all the legal fees associated with appealing Jodi's wrongful conviction.
All donations via Justice4Jodi.com go directly to the fund. It is also the ONLY website authorized to collect donations.
In addition, please DO NOT, under any circumstances, donate through any other website or Facebook page/group claiming to be "official" and/or acting with Jodi's approval or authorization. The same applies to any "Jodi Membership Clubs", groups or fake Trust funds that have been set up. These sites are bogus – they continue to steal money from Jodi's future – and they should be actively avoided. If you are aware of any such sites, please help Jodi by clicking here and reporting them.
And remember… each day that passes takes us one day closer to Jodi's release date…

 . . . . . . . . . . . . . . . . . . . . . . . . . . . . . . . . . . . . . . . . . . . .
Make no mistake.
Believe it.
Prepare for it.
Be part of it.
Leave your thoughts & comments below.
SJ
Team Jodi #WINNING <<<

Click the banner below to read Jade's post – "Justice Denied: Why The Jurors Got It Wrong & How The Facts Decimate The State's Case Against Jodi Arias.":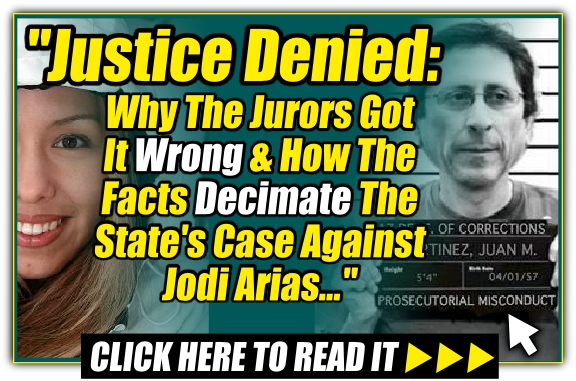 Click the links below to read Jade's previous posts in the series:
Stephens, Sandbagging & The Six Month Crap-Fest
Corruption, State-Sponsored Murder & Twelve Angry Men
The Immaculate Deception: Exposed
Michael Melendez – Perjury Exposed
The Presumption of Innocence
The Great Mormon Porn Swindle