.
Check out the latest post below from Jade:
. . . . . . . . . . . . . . . . . . . . . . . . . . . . . . . . . . . . . . . . . . . .
"This case is destined to be a pyric example of why a re-do of a trial will be remanded. But it won't happen until the case gets beyond the clutches of the simpleton who will still preside over the post conviction relief proceedings. To assume she would administer any semblance of appropriate justice would be like giving a wino a hundred dollar bill and assuming he would buy Gatorade.
Stephens is a veritable female putz. She was so over her head in so many ways that the judge who appointed her should voluntarily surrender his or her credentials and be barred from ever appointing any judge to another case.
A judge is presumed qualified to preside over a world-wide media obsessed death penalty case while they're getting on the job training? And with a defendant forced to accept public defender level defense as their hope of acquittal? This novice trainee on a death penalty case is going to know the protocol and extraordinary stringincies exclusive to a capital case, and be seasoned enough to preserve the defendants presumption of innocence and her rights under the constitution.
Did anyone stop to think, maybe if we're going to put a trainee on her first death case, that it would be prudent to have her officiate one where the defendant is at least represented by a well known criminal defense attorney, so there is some parity of legal prowess and capability to be aware of statutory infringements? Plus at least a familiarity of death case trials and the financial resources to hire the correct goddamn experts in case preparation for a proper defense?
What Dr. Demento thought this comported with the necessary judicial acumen and had fair trial written all over it? Time after time after time, Stephens was stunningly inept and proven to be a virtual blight and embarrassment to the profession of accomplished capital case judges. There was as much time at sidebars as there was testimony in open court. If judicial competence was electricity, she wouldn't have enough to power a 15 watt bulb.
Instead of reigning in an intractible renegade prosecutor that on a daily basis defiled the court room, she was his biggest fan. If she was his wife, she couldn't have been more obviously biased towards him in her rulings.
A despicable prosecutor who treats a death penalty trial as a thrill ride and is allowed to hide evidence at will, mock the rules of evidence, bounces evidence off the floor, literally assaults witnesses and preens for the paparazzi in full view of the jury, without even a whit of a sanction.
She can even be told what her job is and how she has to make her rulings by this reputed pattern-driven five foot fungus. That STILL doesn't merit so much as the slightest warning or mention of contempt for the court in the presence of the jury.
And to win the award hands down for supreme ineptitude, a complete lack of any will or apparent know-how of how to control a courtroom–incomprehensively and in contravention of every legal precept since trials began–she allows the gallery to turn into a cheering section for the prosecution.
Her presiding over the trial proved that Mexico and the Latin heritage have two degenerates that scrape the gutter of humanity–El Chapo, and the one Phoenix is plagued with, El Crapo.
You should be the first one at his book signing Stephens because you are as much of a disgrace as he is to the valor and tradition of a proficiently run courtroom. You obviously have a common affection for one another and an equal indolence that is visually palpable. Soon I predict you're both going to be getting a lot more publicity than you bargained for.
There is such a buffet of boners and bold deliberate deceit that transpired, up to and including felony–grade coverups, that this trial probably stands alone in it's sinnister notoriety for trampling on a defendant's rights. The myriad of inconceivable rulings, and the conduct of the prosecutor, his minions and his pussy brigade of puppets, leave choosing which should be isolated as the best issues to assure overturning of the verdict the most difficult decision of all to arrive at.
But there are two enormities that go even above and beyond what happened in the joke-of-a-court- room itself as proceedings were unfolding. They scream out for inclusion like almost no others. And this is even BEFORE the opening day of the trial !
It is hard to envision a sustainable scenario where any appeals body would call overt and purposeful lying to a Grand Jury harmless error. And as sure as anything that's ever manifested on this earth, that's what happened! The Grand Jury was outright lied to at the very inception of the deliberate and preconceived march to Jodi Arias's execution.
They were told that her handprint on the wall was in blood! And they were told without equivocation it was a fact. The prosecutor presenting the evidence did not say tests were still being conducted. They did not say preliminary beliefs indicate this is what it appeared to be. They did not say one solitary FUCKING thing to qualify it. In fact, they knew it was false. Because all they had to do was consult with THEIR OWN experts who did the tests and they would have supreme confirmation by the Mesa police department blood analysis specialists, that this statement was unambiguously false.
Those tests had already been completed and the results had been determined. You can bet the farm you won't find the testimony of those experts from the Mesa PD crime lab ANYWHERE in that transcript of the Grand Jury proceeding because they would have had to tell the truth. And they would have. That had to be prevented at all cost to insure the Grand Jury would never hear it. And it was!
The Grand Jury was told Jodi Arias's handprint was found on the wall bearing either Travis's blood on her hand while touching the wall, or Travis's blood was on the wall and her hand left a print in his blood. BOTH totally pure grade A, Academy Award winning Mt Fuji size lies. You can't spin this and there is no way to waffle your way around it or finnagle a justification that would indemnify it.
The testimony by the person who was charged with making that determination was defiant in her bluntness UNDER OATH in the actual trial, and this is in the official court record that this was patently false. Martinez was wetting his BVD's that she wouldn't play along and perjure herself like Horn–and his other fabricating marionette, Detective Carlos Dickwad– who both set a new standard for unprecedented cover up and lying.
Could there be a more consequential representation to a Grand Jury in a case where there is no witness? Where there was no murder weapon found? Where there wasn't even enough typeable DNA to develop a complete profile? Could an appeals judge be absolutely confident that had such a brazen lie not been told to that Grand Jury, that it may have resulted in their total REFUSAL to indict?
Any juror hearing that a person's handprint was in the blood of a murdered victim would be almost duty bound to give that purported evidence–if it was in fact legitimately found at the murder site–enormous weight. There could be very few alternate explanations as to how that could be possible. It certainly puts the person at the scene of the crime.
Any juror given this as provably collected police evidence–and then certainly with other added postulations of unquestionable prosecutor bias as well, with all prosecutors traditionally stretching and embellishing the truth–could they be faulted for handing down that indictment? NO. Could they possibly be justifiably criticized for thinking that this comprised the appearance of enough probable cause to vote for indictment if this were true? No! Even I would have, given those circumstances.
But when that empirically critical assertion of evidence is known to be a bold-faced made up lie, and had they been told the truth, which is, that no blood was present–neither ON HER HAND in the latent print found, nor did her hand CONTACT his blood, are you going to tell me that any Grand Juror would consider those two scenarios equally INCRIMINATING? If you think so, contact me when you get back from Mars.
And further, a lie in this case so egregious that it should find the prosecutor facing the State Bar for revocation of their license. Because not only was there no print in blood, it was absolutely impossible to even tell WHEN that one and only print found attributable to Jodi Arias, had even been left there! This was also testified to under oath in the guilt-phase of the trial by the State's DNA specialist witness, Jodi Legg, who did that testing. So the Grand Jury was indisputably misled.
Example 1 ….. (and what they were told)
Suspects palm print found in victims blood.
TRUTH ….. (and what they SHOULD have been told)
A sole palm print of suspect who frequented victims home on numerous occasions was found. It had DNA of both the suspect and the victim, but determining when the palm print was left was impossible for our crime lab to determine.
Are you kidding me? It would be positively laughable to assume that any reasonable Grand Juror would find those two representations equally meeting the same high standard imperative for probable cause. And sufficient to vote first degree murder in their decision.
If the Maricopa death squad could manufacture this ISIS style seismic perversion of the truth, what would be the difference if they told the Grand Jury that a neighbor just happened to be in the yard next door and saw Jodi coming out of the house with a gun in her hand and blood all over her clothes? What the hell is the difference? They would both be lies; merely a distinction without a difference.
It is such a material fact in this case, that an appeals court should have such great consternation that, were this bold faced lie omitted, it may have resulted–or at least COULD have resulted, in a failure to indict. And without an indictment THERE NEVER WOULD HAVE BEEN A TRIAL !
Unless these slimy opportunists still chose to pursue the prosecution in the only option left–a preliminary hearing–and then subject themselves to the scrutiny of a judge and defense challenges to the evidence, that could have shut down the trumped up case entirely right there.
The truth sure as hell could have resulted in the Grand Jury's failure to indict for 'first degree' murder ! This in itself should be enough to remand a new trial. It must be remembered that this representation was made by the prosecutor to the Grand Jury prior to Jodi making any ADMISSION to the killing.
Lest anybody not believe me:
Taken directly from the Maricopa County Attorney's Office web page …… Adult Criminal Trial Process:
. . . . . . . . . . . . . . . . . . . . . . . . . . . . . . . . . . . . . . . . . . . .
"In addition to – and sometimes in lieu of – filing a direct complaint, a prosecutor may formally charge a suspect by presenting evidence to a Grand Jury comprised of at least nine citizens selected at random. If the Grand Jury determines that there is sufficient evidence that a suspect committed a crime and should be tried on SPECIFIC charges, the jurors will formalize these findings by issuing an indictment (sometimes referred to as a "true bill"). The Grand Jury may also issue an indictment alleging charges OTHER THAN THOSE RECOMMENDED by the prosecutor, or determine that there is insufficient evidence to support any charges at all." [capital letter emphasis, mine]
. . . . . . . . . . . . . . . . . . . . . . . . . . . . . . . . . . . . . . . . . . . .
Click the following link for more info:
http://www.maricopacountyattorney.org/prosecuting-criminals/adult-criminal-trial-process.html
In other words, the Grand Jury in Arizona has the autonomy to return an indictment based on charges IT feels has been sufficiently supported and appropriate by probable cause findings.
In fact listen to this, and listen to what the prosecutor is OBLIGATED to do:
Where in the hell were her attorneys that they didn't do this? How could this happen? Talk about being asleep at the switch.
The proverbial "ham sandwich" analogy is always used in regards to prosecutors being able to indict almost anybody, because it is a secret process and basically an oratory by the prosecutor with no defense representatives present. But in no state, is a prosecutor who is bound by his oath to seek the truth, allowed to blatantly make up KNOWINGLY false prevarications and half-truths to a grand jury to bolster its case.
Especially when the prevarication constitutes the closest implication to a "smoking gun" implicating the defendant. It certainly wasn't the bathroom photos that provided that smoking gun. Where's Jodi's face on any of those photos in the bathroom? Show me one!
In fact the prosecutor in most states, to a limited degree, is required to disclose exculpatory evidence to Grand Jurors which is beneficial to the defendant, if that evidence is known. They certainly can't obliterate the truth just to obtain the "true bill" they seek. And this is EXACTLY what was done here.
All the appeals court has to do is get the transcript of the Grand Jury and compare it to the actual trial testimony of Jodi Legg and Lisa Perry. And the glaring pattern of routine evidence fixing by these Maricopa County mothers will be on display in all its glory. Take away that "bloody handprint" and you have next-to-zero probable cause that would convincingly support she murdered anybody.
Even in the rules of evidence procedure applicable to trials, not guilty does not mean innocent. It means that the highest possible mandated standard of PROVING guilt with facts of truth–and to the exclusion of all other explanations of equal plausibility–has not been met. Facts that are required to not be fixed, manipulated or manufactured to garner a win at any cost.
Appeals justices have to take judicial notice that this was a mammoth twisting of the facts to the Grand Jury. And that the charge of first degree murder if forced to be dropped, may have resulted in a TOTALLY different outcome for Jodi Arias.
This enormous misrepresentation is then also piggybacked directly to another highly viable justification for remand to a new trial. Again, this cannot possibly be called harmless error.
A prosecutor, and certainly in a capital case, does not have to spell out chapter and verse of every step of how their evidence is going to be presented in court at trial. They can keep those strategies close to their chest. But they certainly have to disclose the evidence they have against the defendant and they certainly have to disclose all known exculpatory evidence.
The Maricopa Prosecutor's Office could have chosen that route of preliminary hearing, in which instance their case plan IS exposed and their evidence must be revealed in a courtroom setting that is subject to cross examination and challenge by the defendant.
But oh noo-o-o Mary Jo, they didn't do that. They went instead into their little hidey-hole secret place and presented it to a Grand Jury, which they had every right to do; and also which of course then maintained keeping their little game plan secret. Just according to their devious plan.
But when they decided to escalate the charges to the highest possible level and filed notice of intent to seek the ultimate possible penalty of death after the handing down of the Grand Jury's indictment, they made a calculated gamble at their own risk.  In doing so, they had to make a PROFFER TO A JUDGE.
That proffer stated with crystal clarity that their case contention was going to be that Jodi shot Travis and that this wound was the first injury inflicted.  Which as the autopsy verified and the testimony of Flores at the Chronis hearing stated as factually validated by Horn, was exactly what had happened.
It was at that moment however in this proceeding, that they put the defense on notice that this was going to be their allegation before the jury.   And as such,  it was at that time, no different than if this information had been presented originally in an open court preliminary hearing.
This proffer was made for one purpose: to SOLELY influence the judge to grant them the full gamut of the sixth Arizona aggravator of cruelty, heinous and depraved.   Which in their filing choices of aggravators they hoped would be granted, was mandatory to support their desire to elevate the case to a death penalty case.  Not only to charge premeditated first degree murder.
That proffer specifically contended that after Travis was shot, he was stabbed repeatedly, suffering through subsequent brutal knifings, ultimately culminating in a sliced throat.  And most importantly during this entire time he had been conscious.
It was sworn and presumed UNDER OATH that this was their case finding.  And that with the shot already causing him great pain, while conscious and not incapacitated, he still had to endure the additional cruelty of all the other mutilations and the succeeding stabbings, which they pleaded to the judge would support their cruelty aggravator request proffer.
It was presented to the judge only to extend the time and manner of his suffering.  Without him staggering around after being shot, the judge may not have been convinced that the killing met the statutory definition to grant the aggravator.
They knew the case law precedent of what appeals judges had already done in other similar cases.  Such as the Arizona Supreme Court throwing out the cruelty aggravator against Soto-Fong, saying that "where shots, stabbings, or blows are inflicted in quick succession, one of them leading RAPIDLY TO UNCONSCIOUSNESS, a finding of cruelty, without any additional supporting evidence, is not appropriate."
They couldn't risk that.  Their whole death plan for Jodi depended on it !  There was only the one thread of hope still remaining that Jodi could be injected with a death cocktail, and the "cruelty" was it.
When they made that proffer to the judge, the defense justifiably went into action with that as the defense they would have to mount against.  They are no longer obligated to wait until trial to hear the sequence of the injuries.  Their entire case strategy was set by what they had every right and expectation their client would be charged with doing, and the evidence as it would be expected to be presented by the prosecution.
But then surprise, surprise.  Little did the Bungling Brothers Circus know that Jodi was going to change her plea to self defense and contend that exactly what they had proffered to the judge, was in fact what actually HAPPENED.
So oh oh, now they were in deep doo doo.  Their proffer to the judge was now exactly what would validate the very real possibility that Jodi had to act in totally justifiable self defense of her own life.  Or certainly having a rational belief that she was about to suffer great bodily injury. Either of which falls squarely under allowable justifiable homicide.
When this was flipped, almost on the eve of trial after two years of case preparation based on this sworn testimony to a judge under automatic penalty of perjury, this was the the most supreme and outrageous form of sandbagging the defense.
Martinez knew this had now constituted outright lying to the judge at the hearing because it completely changed the material facts on which the judge based her decision.
But they were in a vice–Jodi had stopped denying she'd killed him, and now with a self-defense plea, HER version of the sequence of injuries was going to be more believable to a jury.  They were in full panic mode.  The one thing they had to prevent was any chance that the bullet had only stunned Alexander, angered him, and caused him to go into a rage-like state of full intent to kill or gravely injure Jodi.
So with the scruples of the degenerates they are, they juxtaposed what they had told the judge.  But worse than that, and what the appeals court is BOUND by every tenet of justice to consider, is that the entire concept of Jodi's right to a fair trial was deliberately contravened, sabotaged and hijacked when this was done.
Only one thing allowed their perverse penchant for death to survive that last glimmer of hope: that aggravator.  That aggravator was granted based on false, misleading, and totally changed presentation at trial.
It had to either be:
1. a lie at the time they presented the sequence of the gunshot and stabbings to the judge.
or
2. a lie when they presented the gunshot being last at the trial.
There's no way the two can be morphed into both being true. They are 360 degrees diametrically opposite factually and legally. One–he's shot when he's alive. Two–he's shot when he's categorically and indisputably dead.
It cannot POSSIBLY be assumed that if a truthful proffer had been given to the judge–which would have had to MATCH what Martinez indeed presented as the sequence of injuries IN THE TRIAL–that the judge would still have granted their only remaining hope of that aggravator. In fact, it is more likely she would have denied it ! If they had said she shot him when he was already dead, it's almost a sure bet she would have denied it. They would have been screwed.
It was a double criminally worthy subjugation of justice. It sent the defense chasing into rabbit holes the prosecution had allowed them no knowledge of, misled them about–and with the inept Orphan Annie numbskull judge assigned to her trial–left them with zero time to prepare adequate defense for. It simultaneously also abridged every constitutional right of Jodi to be tried by a PROPERLY SELECTED jury of her peers. It is impossible to say it didn't.
There isn't a cogent-minded, legally proficient judge alive, not in state court, not in appeals courts, not in federal courts, not in the Supreme Court, that would say there is no difference between a death qualified jury and a jury of people who have no requirement to believe in death as a punishment. Not only that, jurors who actually may have a strongly held belief AGAINST the death penalty.
There could be no brighter red line distinction between the two. If there isn't, what the hell is the big deal then about the precise narrowing through voir dire in a death penalty case to find only death-qualified jurors? Why even have the term "death-qualified" if there is no difference?
Are we to believe a jury comprised of citizens that viewed the death penalty as something they may be categorically opposed to, would not, or may not, view evidence in a totally different light and with a totally different scrutiny? It's inconceivable that they wouldn't. It would be a totally different mindset. A totally different temperament of the triers of fact.
How could an appeals court not have grave concerns that Jodi's case may have turned then ENTIRELY on that factually completely untruthful submission to the judge? A judge where with one word; denied, would have forced Maricopa County to try Jodi on the maximum allowable charge of SECOND degree murder. A charge carrying a maximum prison sentence of only 29 years.
Even those convicted of a previous 2nd degree murder, 29 years is the maximum prison term. And I think we can unanimously agree, Jodi is no serial killer. She'd never committed a crime in her life.
So what precedent allows a prosecution to ambush a Superior Court judge? Where, on the other hand, the truth could have resulted in the requirement of a vastly different analytic minded jury? And furthermore, would have forced a trial that would immediately have taken off the table ANY of the possible consequences of a first degree murder conviction, including the applicable prison sentence she's been sentenced to, and up to the present day, wrongfully serving?
And that's what it was, an ambush! Because the judge granted the motion based on what she believed was reliable by a sworn officer of the court. Out of 14 possible aggravators, every one applied for had been denied, except for the one slim hope left. The first degree charge was barely hanging on by a fingernail.
Legal rulings have no relationship whatsoever to perceptions of the common man or anyone not familiar with the laser-like precision of legal definitions. Would anyone not extraordinarily versed in statutory requirements, upon having the wounds of Travis detailed to them, think that it could only be a depraved or insanely depraved person that could inflict that many injuries?
Would any person outside the profession of a BAR qualified individuals familiar with the technicalities of legal specificity think that it would be IMPOSSIBLE that this couldn't qualify as a heinous crime? In fact, extremely heinous? It certainly would be thought of as heinous from the viewpoint of the victim–he's dead.
Yet BOTH of these descriptive aggravators were rejected by the judge as not having met the statutory requirement obligatory under the law–both heinous and depraved were DENIED!!
Nothing could then better evidence the acutely critical precise accuracy that a judge relies on in making their capital case rulings. In this case, with the switch of gunshot first to gunshot last, she relied on an unambiguously, specious, mendacious, contrived, fallacious, unequivocally bogus, and convenient LIE–that at that time met the timely needs of the prosecution. But also entirely forming the underpinning of the favorable aggravator ruling.
No tortured cavalier assumption that tries to ration that maybe the judge would still have granted the only remaining undenied prong of the 3-part cruelty aggravator anyway–had she any way to know this information was totally untrue–is even remotely credible. No amount of verbal gymnastics could roll back the clock and assure that outcome.
And as such, that alone, and certainly in combination with the major falsification to the Grand Jury, these two things should MANDATE a new trial. If not, it stands every code of ethics prosecutors are bound by, fundamentally, on its head.
These are two of the most legally actionable egregious violations and cause for verdict reversal out of the virtual potpourri of infringements of Jodi's constitutional entitlement to a fair trial.
To call these actions "misconduct" is like comparing an H-bomb to a firecracker. These were intentional attempts to fix evidence to bring the highest possible charge and to force a capital case conviction. It doesn't get any worse than that. The perpetrators at the M.C.A.O should be facing the death penalty themselves!
In fact, a THIRD grevious error is very possibly encapsulated by the switch of the injury sequence as well. If Nurmi applied for a continuance or extension of time to re-prepare the defense for the blind-side they were hit with–and t seems to me I recall that he did and Stephens denied it–that will be HUGE.
If this is factual and it's in the record, I can't see a reason in the world why that wouldn't constitute reversible error just in itself in a death case trial. It forced them to proceed with a totally different trial strategy than they had prepared for.
There couldn't be a more justifiable cause for retrial than the highest form of Brady violation, coupled with unmistakeable dereliction and disregard for prosecutor ethics. Topped off with the failure of a judge to allow a defense time to adequately prepare or acquire expert witnesses.
In summary, I would set the stage in the appeals preparation papers with the Debra Milke case and making it inexorably clear that this is the same county who was responsible for that evidence fixing, resulting in that innocent woman's stay on death row for a period of 21 years. The same Maricopa County Office prosecutors!
And here was a repeat attempt by these very same insidious jack-boots, notorious for ignoring the rule of law and the canons of ethics incumbent on them by their oath. It is a nest of corruption and rogue prosecutors with a penchant for giving the finger to judicial rights enshrined by the constitution, routinely overcharging defendants and a perverted obsessive fetish for the death penalty.
No one-two punch of flagrant violations should be more attention-getting to appeals judges than these two examples. It even exceeds the atrocious representation she was forced to accept, which under any definition was ineffective counsel. It wasn't ineffective, it was downright, across-the-board incompetent. But that's just icing on the cake.
Prying open that sealed Grand Jury testimony regarding the "handprint," comparing it to the transcript of the appropriate guilt phase testimony in the actual trial, and a review of the testimony on August 7, 2009 before Superior Court judge Sally Duncan, begging for the aggravator–proven in the actual trial to have been a 100% perjured proffer by the prosecutor–should be more than enough to have the appeals judges seething with contempt.
It is fitting that on this recent 4th of July, Americans were talking about and celebrating a successful fight for their freedom. I believe one day Jodi–and certainly at the Supreme Court level–in the not too distant future, you will be liberated from that Perryville prison.
Because you are not guilty of premeditated murder. And you are also not guilty of the cheap shot, burglary predicate felony murder–which even your dimwit jury, comprised of 12 of the most maladroit morons since the Simpson jury–five of "them" couldn't even find you guilty of the charge. Or of taking his gun either.
So let me bottom-line this for you who inhabit the uber stupid zones on other forums and have no inkling of the shanghai job this trial was …
You Travis adulators and the California carnival barkers who sucked you in and drained your wallets, your time to be pissed hasn't even begun. if you think you're upset that she didn't get death…just wait.
Mark my words, Jodi Arias AT THE LEAST—with a competent appeal submission including these two glaring headlining harrowing atrocities I have detailed–will have a new trial!
Alexandroids, save this post!"
– Jade
. . . . . . . . . . . . . . . . . . . . . . . . . . . . . . . . . . . . . . . . . . . .
UPDATE:
The JAA Appellate Fund Matching-gift Campaign ended on August 1st. Thanks to a generous matching donor and all the supporters that donated to the fund, the total currently stands at:
Thank you for your support!
Let's now be sure to keep the momentum growing so the fund total can push through $100,000, and even closer towards raising sufficient funds to help cover the legal fees associated with appealing Jodi's wrongful conviction.
All donations via Justice4Jodi.com go directly to the fund. It is also the ONLY website authorized to collect donations.
In addition, please DO NOT, under any circumstances, donate through any other website or Facebook page/group claiming to be "official" and/or acting with Jodi's approval or authorization. The same applies to any "Jodi Membership Clubs", groups or fake Trust funds that have been set up. These sites are bogus – they continue to steal money from Jodi – and they should be actively avoided. If you are aware of any such sites, please help Jodi by clicking here and reporting them.
Remember…

. . . . . . . . . . . . . . . . . . . . . . . . . . . . . . . . . . . . . . . . . . . .
If you missed any of our previous posts, click on the links below:
"Monumental Incompetence" (a post by Jade)
Today's BS Hearing, 6/22
The Mysterious Stench of Decomp & BS
My Reply To Kirk Nurmi's BS
Survivor Day – June 4th – Celebrate The Day!
Sky Hughes – Email Exchange r.e. TA's Pedo Antics (June 2010)
My current thoughts, forward plans & other stuff
The JAA Appellate Fund $25,000 Matching-gift Campaign
Jennifer Willmott – interviews w/Michael Kiefer & ABC15
Justice For Jodi + Post-sentencing Videos
Chris Hughes – Liar & Pedo-Hugger (trial testimony from 2013)
TA's Pedophile Letter Handwriting Comparison – (Part 2)
TA's Pedophile Letter to Jodi Arias – (Part 1)
REQUIEM FOR CANDY CRUSH (by Lise LaSalle)
Juror #17 – We Thank You
Jodi Arias Victorious Verdict Day: Video Coverage
The Jodi Arias Verdict: My Thoughts On "Pedo-Huggers United"
. . . . . . . . . . . . . . . . . . . . . . . . . . . . . . . . . . . . . . . . . . . .
If you'd like to send Jodi a letter or postcard, click here for the current address details & guidelines.
In the meantime…
WE ARE TEAM JODI – AND WE WILL BE VICTORIOUS in our quest for JUSTICE FOR JODI.
Never question it.
Never doubt it.
Prepare for it.
Leave your thoughts & comments below…
SJ
Team Jodi #WINNING <<<

Click the banner below to read Jade's post – "Justice Denied: Why The Jurors Got It Wrong & How The Facts Decimate The State's Case Against Jodi Arias.":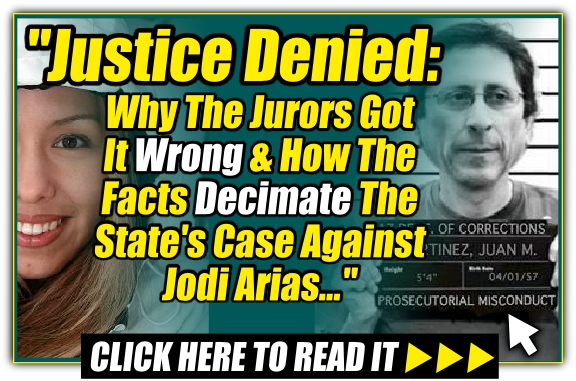 Click the links below to read Jade's previous posts in the series:
The Photos Tell The Story (by Jade)
Stephens, Sandbagging & The Six Month Crap-Fest
Corruption, State-Sponsored Murder & Twelve Angry Men
The Immaculate Deception: Exposed
Michael Melendez – Perjury Exposed
The Presumption of Innocence
The Great Mormon Porn Swindle