Welcome to the #1 Jodi Arias Support site!
Here you can keep fully updated on all the latest Jodi Arias news… comment and chat with fellow Jodi supporters in a safe & friendly environment… leave a message for Jodi… check out her latest artwork – and watch daily recordings of the current trial.
** To support Jodi financially, click here to visit our dedicated Jodi Support page **
To help spread the word of our site, feel free to include the following link in your emails and in any forum, sites or Facebook posts:
www.JodiAriasIsInnocent.com
You can also link to us by adding the banner below to your own blog or website: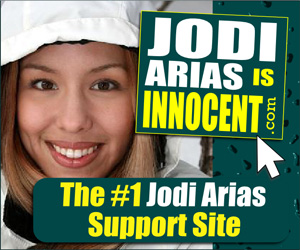 Website featured on ABC 15, Feb 19th:
*** Click here to leave a message for Jodi ***
You're also welcome to check out our sister site @ CaseyAnthonyIsInnocent.com
Stay strong & keep the faith!
We will be victorious.
You can mark my words on that.
SJ
Team Jodi