.
Just in case you missed it the other day, here's JM's post in reply to Dr Drew's question. That's where he apparently failed to get his head around the fact that there's are millions of Jodi supporters out there.
No doubt Drew would also struggle to come to terms with this website not only being in the top 12,000 most visited sites in the US right now, but also with it being in the top 94,000 most visited websites globally – according to the Alexa rankings. We've also had over 5 million page views since January too… while the current bunch of BS hate-themed sites aren't even in the top 5 million most visited list.
What does that tell ya?

Anyways… here's JM's post:
. . . . . . . . . . . . . . . . . . . . . . . . . . . . . . . . . . . . . . . . . . . . . . . . . . . .
"Hey everyone. This is my response to Dr. Drew. I sent this to him via a link on Twitter. So far, he has not responded.
HLN's Dr. Drew Pinsky posed this question last night to his viewers:
"What kind of person supports Jodi Arias?"
This is my answer and response to him:
Dr. Drew, since you asked the question, let me give you an answer: the kind of person that supports Jodi Arias is less interested in fame and more interested in helping others through anonymity. They're the kind of person that is less interested in making money from this case and exploiting the dead and more interested in raising awareness by championing the survivors of abuse. They're the kind of person that is less interested in trying to find lies and more interested in finding the truth. They're the kind of person that is less interested in having their hands and wallet open for cash and more interested in having their hearts and minds open for love. They're the kind of person that wants justice as opposed to revenge, life as opposed to death, love as opposed to hate and they recognize that Jodi Arias is not perfect, but love and support her because they see her for who she really is, not the caricature you and others have made her out to be.
Dr. Drew, you mention how there are those who have chosen to "piggyback" on the coattails of Jodi Arias for fame. With all due respect, you and your colleagues might want to take a look in the mirror to see who the real culprits are of this. You and your cohorts at HLN have been more in bed with Travis Alexander in the past 5 months than Jodi Arias ever was. You have given and allowed Travis's family, friends and supporters free reign on your daily and nightly television shows to trash, smear and attack Jodi Arias without giving her or her family a chance to respond without being shouted down or mocked and ridiculed. I could expect this type of behavior from the others at your network, but not from a man like you whom I know has interacted with many troubled individuals whose problems are analogous to Jodi's. You, of all people, sir, should know better. Everyone knows that a doctor's M.O. is "do no harm". You have done nothing but harm to Jodi Arias, her family and her supporters. But most of all, and you probably don't even realize, you will wind up doing even greater harm to yourself.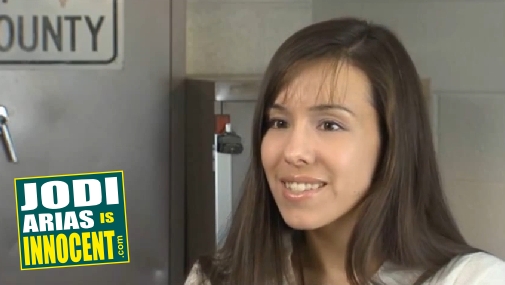 I choose to support Jodi Arias because I hate domestic violence whether the abuser is a man or a woman. However, the majority of abusers are men and the majority of survivors are women. And, sadly, a lot of men choose to remain silent or sit on the sidelines instead of speaking out against domestic abuse and letting women know that they aren't the only voices that wish to be heard. We do so out of love, Dr. Drew, not for fame, not for money, not for anything other than love and support which these women so desperately need. And, on a personal note, we have heard a lot about religion during this trial. I find it hard to fathom that Jesus Christ would be giving high-fives to Travis Alexander's family for the way they have and continue to spew hatred out of their mouths for Jodi Arias. I can't speak for the Mormon religion since I am a Catholic, but I believe that my God is one who places more value on the actions and deeds of those who do His work over the rhetoric and speeches of those who claim to.
We support Jodi, not because she is perfect and infallible, but because she is imperfect and many of us identify with her and her situation. And we love her unconditionally as a woman who has shown those of us who choose to see her without bias as someone that is generous, compassionate, passionate and loving. We're not ashamed to say that we not only love her 9 days out of 10, we love her 24/7. And, in closing, I'd just like to say that out of something tragic comes something good and that is this: her supporters have become extended family to each other. If you look at the people and posts on the pro-Jodi Arias websites, you will find almost every one of them to be positive and uplifting.
Contrast that to the anti-Jodi Arias websites where you will find almost every one of them to be negative and hateful. We do it for love, Dr. Drew, unconditional, undying, unwavering love for a woman that most of us have never met, but whom also has become a member of our extended family.
Thank you."
. . . . . . . . . . . . . . . . . . . . . . . . . . . . . . . . . . . . . . . . . . . . . . . . . . . .
I couldn't have put it better myself.
Jodi Arias supporters are basically fucking awesome.
WE ARE TEAM JODI – AND WE WILL BE VICTORIOUS in our quest for JUSTICE FOR JODI.
NEVER DOUBT IT FOR ONE SECOND.
Leave your thoughts & comments below peeps…
SJ
Team Jodi
The new "Survivor" t-shirts are are selling fast! 100% of the net profits generated from the sales will support other survivors of domestic violence, and go to Non-profit Domestic Violence organizations selected by Jodi.
If you would like to help Jodi by way of a financial donation via check or PayPal, click the Team Jodi link below for further details. All donations go directly to the Arias family…