.
Are we sitting comfortably?
Ok. Then I'll begin

Soooooo… just when we thought we'd literally seen it all, this trial circus has managed to out-do itself once again.
Not content with enough prosecutorial misconduct to sink several ships… or Martinez' grandstanding outside the courthouse, and his office releasing Jodi's journals & videos to HLN… we've now had a day that literally started and ended with a fairy tale.
In between all of that, we also had reconfirmation (in text & email format) of what totally abusive & manipulating bastard TA really was. I'll cover more on that later.
But getting back to today's post…
Fairy tale #1 relates to Judge Pickles… where she assumes that none of the jurors have seen anything relating to the trial in the media, as highlighted again by Kirk Nurmi… yeah, right……. and fairy tale #2 relates to Martinez' ongoing revelations relating to Snow White & the 7 dwarfs, during his piss-poor attempt at cross examining Alyce LaViolette.
The phrase "comedy farce" would be an understatement.
Here's one of numerous highlights from the start of his cross, where Alyce calls him out on his recurring bad temper issues – and subsequently has everyone in the courtroom rolling with laughter. She served Martinez his ass on a plate, and you can be sure it'll not be the last time she does that.
Enjoy…
[hdplay id=155 width=500 height=300]
Priceless

You can also click here to watch the full trial day video.
But seriously… is this really what it's all come down to now? Snow White, the 7 dwarfs, how old the dwarfs were – and whether they lived in a shack or a cute cottage?
I posted earlier in the week that this cross would be interesting, and that Alyce is well accustomed to dealing with arrogant bad tempered little shits. How true that was. So what will we have next week? Juan and The Beanstalk? Jeez.
Here are a few random comments from the 2,000+ posted over the past 24 hours, all of which quaintly capture the true essence of Martinez' antics…
"What a no-good prick." — tonysam

"She has had many years dealing with assholes like him." — BeeCee

"Mr. Martinez I'm not sure what you're saying! Well neither does anyone else!" – Tina J

"Snow White now? Man, this fucker is reaching." — Kira

"Yep. What next, the big, bad wolf and the 3 little pigs?" — Frannie

"Oh my goodness, Frog on crack!" — Ann

"Why the hell is the judge letting this go on? What the fuck????!!!!!!!!! What the fuck does any of this have to do with this case? This is insane. Martinez is an ugly, vile little man. And this judge is an idiot." — Michael L

"Does anyone else smell that? Its the smell of "JackShit" and its everywhere that the little troll has paced. Watch where you step." — Shan72

"I'm wondering if I'll ever sleep tonight–far too much excitement for one day!!" — Heather1

"Guys I finally got the Snowwhite and the dwarfs thing. BOMBSHELL.  JM is one of the dwarfs – Dopey" — Al
I could go on, but I'm sure you get the gist. You guys are awesome.
And let's not forget… in the middle of this bullshit circus… this was yet another AWESOME WEEK for Jodi.
Over the past couple of weeks, Dr Richard Samuels and Alyce LaViolette really have done a truly outstanding job… not just for Jodi, but for every DV victim out there. And for that, we will be eternally grateful.
Remember peeps… WE ARE TEAM JODI – AND WE WILL BE VICTORIOUS!
Leave your comments below on the Disneyfied events of trial day 41, while I go off and find some headache tablets…
SJ
Team Jodi
If you would like to help Jodi directly by way of a financial donation via check or PayPal, click here (or click the Team Jodi link below) for further details.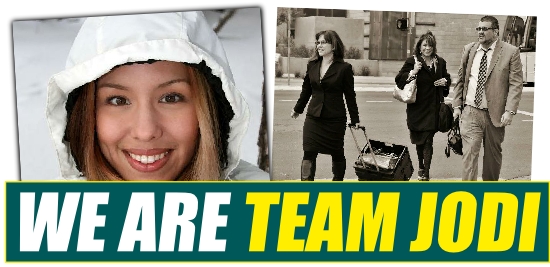 .