.
Check out the comment below. It was posted by Publius Smith (a criminal defense lawyer in California) in response to a main post titled "Jodi Arias – A Few Questions" in the Lawyers On Strike blog.

Here's the comment in full:

. . . . . . . . . . . . . . . . . . . . . . . . . . . . . . . . . . . . . . . . . . . .
"I'm a criminal defense lawyer in California – solo practitioner. In June 2014 I started watching the Jodi Arias trial videos on Youtube. I was drawn in by the savagery of the crime coupled with the lack of any criminal record on the part of Ms. Arias. I wondered how it possible that such an unlikely defendant could be responsible for such a heinous act. Like a lot of lawyers, also, I was deeply offended and outraged by the antics of the prosecutor. In my state, we take civility and decorum seriously. No judge or lawyer would put up with the shameful actions of Mr. Martinez. I was also offended by the misogynistic undertones in Mr. Martinez's interactions with Ms. Arias – it was the scarlet letter redux. Ms. Arias never represented herself to be some pure angel, unlike Travis, who held himself out to the world as a 30 year old virgin and who was a priest in the (creepy, SCARY), Mormon church. Yet Ms. Arias was portrayed as a whore, a harlot, while Mr. Alexander's hyper-sexual antics with multiple women at any given one time were relegated to the sidelines. (I mean, that's what men do, right?)
So I reached out to Ms. Arias and sent her a letter via an Internet support site. My purpose was to express how impressed I was, as a lawyer, with her grace and dignity under withering, unethical attacks by the prosecution. I offered to help her if she had any legal affairs in California. I never expected my letter to reach Jodi, let alone to hear back from her, but I was told that she wanted to speak to me and I opened up a jail call account and soon thereafter she telephoned me from Estrella jail. Since then I have flown to Phoenix and met with her at least 15 times and spent probably close to 100 hours with Jodi Arias, talking to her, getting to know her, becoming her friend, typing affidavits (most which were never used in the second penalty phase), researching transcripts and trial videos, etc. Prior to Perryville, I spoke to her on legal calls weekly, and daily in the weeks before the sentencing. I also attended the penalty phase retrial a half-dozen times and was there for closing arguments and sentencing.
Jodi Arias in person is completely different from the stoic, stone-faced Jodi Arias in the trial videos. She is a self-described "dork" who is always laughing and smiling. She is also one of the most intelligent women I have ever met. Her grammar is perfect. Her mind is sharp. Why she never finished high school and went on to college is beyond me. Ironically, she would have made a fantastic lawyer. What first struck me about her, however, was how petite she is. She is 5'6″ at best, and weighs 125 pounds. I immediately wondered how it was possible that she could kill Mr. Alexander, who was short but still taller than she and who had been bulking up for his Cancun trip, in less than 2 minutes, then drag his body into that small shower stall. By herself. It defies logic.
I am absolutely convinced Ms. Arias did not receive a fair trial. Exculpatory evidence was withheld and/or destroyed. Mr. Martinez and Mr. Flores lied about the sequence of events. The gun shot came first, as the State maintained for years. Why did they change their story to claim it came last? Because if the gun shot came first, the State would not have been able to prove the aggravating factor of cruelty because Mr. Alexander would not have been conscious when his throat was slit. Judge Stephens continually turned a blind eye to Mr. Martinez's unprofessional and unethical acts, and denied every motion for mistrial that were properly made by the defense. She also refused to requester the jury. Every time I see her in those videos ask the jury to raise their hands if anyone has spoken to anyone about the trial, my blood boils. Does any reasonable person think that no one talked to the jurors about this case?? I was in Phoenix many times and let me tell you, there's no way you could escape the mob like atmosphere surrounding the trial in that town. It was everywhere, from billboards featuring the likeness of Juan Martinez, to the mob outside the courthouse steps. I've always respected judges but not so with Judge Stephens. She is incompetent and that's putting it graciously.
There are so many facts to support the claim that Ms. Arias was denied a fair trial, beginning with her defense team. How can a capital case defendant receive a fair trial when her lead attorney hasn't spoken to her in almost a year? When exculpatory evidence is withheld for years and only on the day before trial begins, is turned over to the defense? When the existence of exculpatory evidence is denied by the State, then later, admitted. When the prosecutor is signing autographs for his fawning, adoring mob outside the courthouse? When potentially exculpatory evidence such as the footprint at the crime scene isn't even mentioned? When mysterious "suicides" aren't investigated? When, despite a complete media circus and the existence of social media, the jury is not sequestered? When a material witness (Det. Flores) is permitted to remain in the courtroom throughout the entire trial? When the same detective/witness perjures himself on the stand? When the State's medical examiner perjures himself on the stand? ("Typo?" Seriously?). The answer is, she can't.
The power and scope of the Mormon church in Mesa, AZ should not be discounted. (I would pay big money to know if any of the jurors on either panel were members. The questions from the jury in the penalty phase re-trial certainly indicate that some may have been.) Det. Flores is Mormon. When one considers the history of Mormon rituals such as "blood atonement" the "Mormon ninjas" theory begins to look less incredible, (though I personally do not subscribe to it.) Also, it takes a LOT of time and MONEY to orchestrate the anti-Jodi Arias campaign that we've seen since before this trial began. I have my suspicions as to who is behind it and hope that the truth will come out, if not during Ms. Arias' appeal(s), then some time in the not too distant future. Thanks for letting me vent."
. . . . . . . . . . . . . . . . . . . . . . . . . . . . . . . . . . . . . . . . . . . .
Remember…
The JAA Appellate Fund $25,000 Matching-gift Campaign is now underway: A donor who wishes to remain anonymous has pledged to match, dollar for dollar, any new donations received before August 1, 2015, up to a total of $25,000. Please give generously – and soon – to allow the JAA Appellate fund to take full advantage of this gift.
All donations via Justice4Jodi.com go directly to the fund for assisting with the legal fees associated with appealing Jodi's wrongful conviction. Justice4Jodi.com is the ONLY website authorized to collect donations.
In addition, please DO NOT, under any circumstances, donate through any other website or Facebook page/group claiming to be "official" and/or acting with Jodi's approval or authorization. The same applies to any "Jodi Membership Clubs", groups or fake Trust funds that have been set up. These sites are bogus - they continue to steal money from Jodi – and they should be actively avoided. If you are aware of any such sites, please help Jodi by clicking here and reporting them. Thank you for your ongoing support!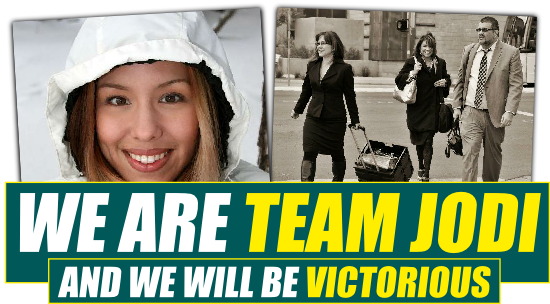 . . . . . . . . . . . . . . . . . . . . . . . . . . . . . . . . . . . . . . . . . . . .
If you missed any of our previous posts, click on the links below:
Sky Hughes – Email Exchange r.e. TA's Pedo Antics (June 2010)
My current thoughts, forward plans & other stuff
The JAA Appellate Fund $25,000 Matching-gift Campaign
Jennifer Willmott – interviews w/Michael Kiefer & ABC15
Justice For Jodi + Post-sentencing Videos
The Mysterious Stench of Decomp & BS
Chris Hughes – Liar & Pedo-Hugger (trial testimony from 2013)
TA's Pedophile Letter Handwriting Comparison – (Part 2)
TA's Pedophile Letter to Jodi Arias – (Part 1)
REQUIEM FOR CANDY CRUSH (by Lise LaSalle)
Juror #17 – We Thank You
Jodi Arias Victorious Verdict Day: Video Coverage
The Jodi Arias Verdict: My Thoughts On "Pedo-Huggers United"
. . . . . . . . . . . . . . . . . . . . . . . . . . . . . . . . . . . . . . . . . . . .
If you'd like to send Jodi a letter or postcard, click here for the current address details & guidelines.
To access every court document & motion relating to this trial, click here or click the Court Docs link from the main menu at the top of the page.
In the meantime…
WE ARE TEAM JODI – AND WE WILL BE VICTORIOUS in our quest for JUSTICE FOR JODI.
Never question it.
Never doubt it.
Prepare for it.
Leave your thoughts & comments below…
SJ
Team Jodi #WINNING <<<

Click the banner below to read Jade's post – "Justice Denied: Why The Jurors Got It Wrong & How The Facts Decimate The State's Case Against Jodi Arias.":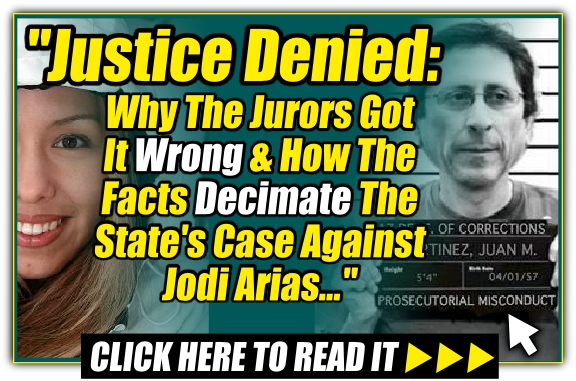 Click the links below to read Jade's previous posts in the series:
The Photos Tell The Story (by Jade)
Stephens, Sandbagging & The Six Month Crap-Fest
Corruption, State-Sponsored Murder & Twelve Angry Men
The Immaculate Deception: Exposed
Michael Melendez – Perjury Exposed
The Presumption of Innocence
The Great Mormon Porn Swindle